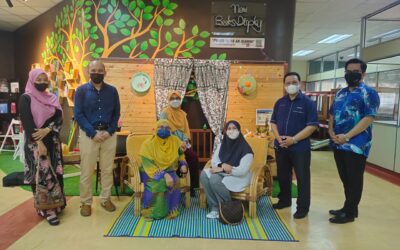 Perpustakaan merupakan salah satu fasiliti utama bagi pengesahan audit akreditasi sesebuah program. UTMSPACE merupakan salah satu fakulti yang menawarkan program pengajian separuh masa dan mempunyai pelajar yang ramai di UTM Kuala Lumpur. Pada tahun 2022, UTMSPACE...
read more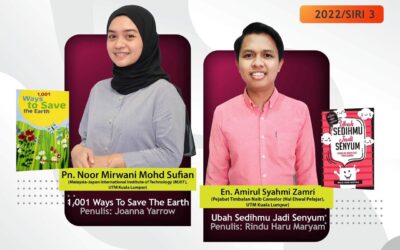 Pada Khamis 17 Februari 2022, telah diadakan Program BookSharing@UTMKL 2022 secara langsung melalui Facebook UTM Kuala Lumpur. Siri ketiga ini menjemput dua orang pengulas  iaitu Pn. Noor Mirwani Mohd Sufian, Penolong Pegawai Latihan Vokasional, Malaysia-Japan...
read more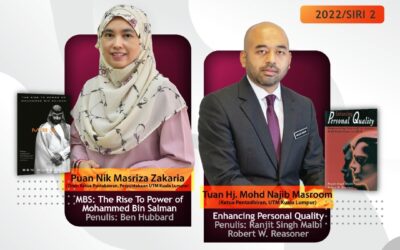 Program BookSharing@UTMKL 2022 bagi siri kedua telah diadakan pada Khamis, 10 Februari 2022. Tetamu istimewa pada program ini  adalah Tuan Hj. Mohd Najib Masroom, Ketua Pentadbiran UTM Kuala Lumpur dan Puan Nik Masriza Zakaria, Timbalan Ketua Pustakawan, Perpustakaan...
read more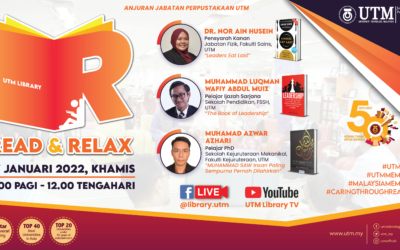 Siri kedua program Read & Relax Perpustakaan UTM Johor Bahru bagi tahun 2022 telah berlangsung pada 27 Februari 2022, Khamis jam 11.00 pagi dengan menjemput tiga orang pengulas iaitu Dr. Nor Ain Husein, Pensyarah Kanan Jabatan Fizik Fakulti Sains UTM, Encik...
read more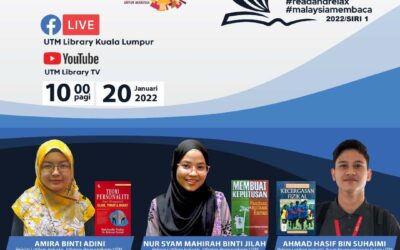 Program BookSharing@UTMKL 2022 siri pertama ini telah diadakan pada Khamis 20 Januari 2022. Sebagai sesi pembukaan, tiga orang pelajar latihan industri telah dijemput sebagai pengulas iaitu Encik Ahmad Hasif Bin Suhaimi, Pusat Kecermerlangan Sukan, Cik Nur Syam...
read more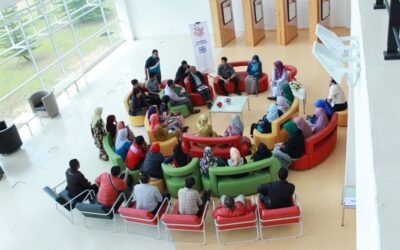 Perpustakaan UTM menyokong penuh Kempen Dekad Membaca Kebangsaan yang dilancarkan pada tahun 2018 dalam merealisasikan Malaysia sebagai negara membaca menjelang 2030. Justeru, penggiatan budaya membaca  telah digerakkan oleh semua Universiti Awam melalui inisiatif...
read more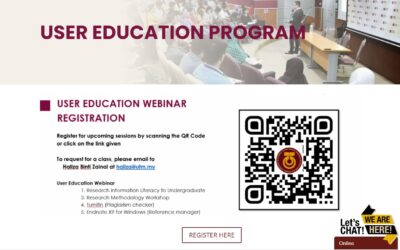 UTM Library user education program are offered exclusively via physical face-to-face medium for many years. However, we have no choice but to reconsider and change significantly once the country was hit by COVID-19 pandemic since early March 2020. As a result, our...
read more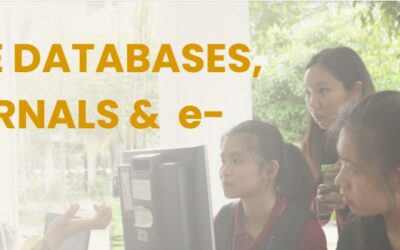 Seksyen Pembangunan Sumber & Katalog (SBK), Bahagian Perancangan & Pembangunan Jabatan Perpustakaan UTM  menyokong proses pembelajaran, pengajaran, penyelidikan, perundingan dan penerbitan di UTM melalui penyediaan sumber rujukan yang diperlukan oleh warga...
read more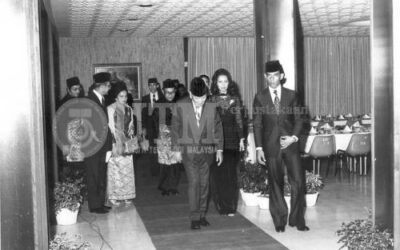 Unit Koleksi Khas (UKK) telah memulakan usaha pendigitalan bahan fotograf koleksi khas (FTG) bagi menyediakan akses yang lebih meluas kepada semua pengguna Perpustakaan UTM. Sehingga tahun 2020, sebanyak 705 rekod bagi FTG yang telah didigitalkan berjaya didepositkan...
read more