How to access online databases?
Online databases can be access on and off campus at http://ezproxy.utm.my. You need to log in using your ACID credentials. Additionally, you will find links to e-resources throughout library search and Library Catalogs. Contact your preferred library or email to lib-enquiryjb@utm.my or lib-enquirykl@utm.my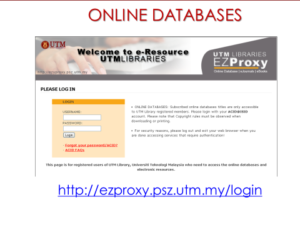 How to access to subscribed databases outside the campus?You can access those databases through the library website -> Off Campus Access.
What is Off-Campus Access?Off-Campus Access is actually a link to Ezproxy which allows user to access online resources from off campus.
Could I give my ACID and password to another user so that he can access to our databases?No, you may not disclose your ACID credentials to another person. We are not responsible for any misuse of ACID.
Does UTM Library have electronic books that I can download?The UTM Library has a growing collection of electronic books, some of which can be downloaded. Check library.utm.my for titles.
Where can I find past year exam papers? (Electronic Resources)UTM Library provides access to the Examination Papers (EXAM) database which consists of past year examination papers.

The database is updated whenever the Library receives new examination papers from faculties. Please note that access to the database is restricted to the staff and student of UTM only.

To access the database, head to the library portal.

Click on UTM Theses & Exam Papers tab type in the E-Resources menu.

Click Document Management System