PUBLICATION WORKSHOP
UTM Library regularly collaborates with academic publishers to organize research writing and academic publication workshop for researchers. Our past collaborators include Clarivate Analytics, Elsevier, IEEE, Springer and SAGE.
If you are interested to join future workshops, send us an email (syahranah@utm.my, ext: 30280) and we will include you in our mailing list.
UPCOMING EVENTS
Supporting your Research Webinar Series: IEEE Xplore
IEEE Xplore is the premier source for technical content, IEEE Xplore has over 5 million documents and provides over 8 million downloads each month.
Event: IEEE Xplore
Date and time: 22nd June 2021 at 2.00pm – 3.30pm
Duration: 1 Hour and 30 Minutes
Trainer: Mr. Edward Kennedy Nasen Thevarakam (Senior IT & Client Services Manager)
An e-certificate and student Merit/staff CPD will be provided to all participants.
Register now at https://bit.ly/Dregister  to reserve your place.
Supporting Your Research Webinar Series: Eikon Datastream.
EIKON DATASTREAM – Identify trends, generate and test hypotheses, and develop viewpoints and research. Loaded with 70 years of information, Datastream is the world's most comprehensive financial time series database.
What do you get with Datastream?
• Comprehensive historical financial database
• Unique content
• Powerful analytical tools
• Integrated with Microsoft Office
• Flexible API access to data
• Consistent point-in-time data
Speaker: Mr. Wong Wai Hong
Date and time: Wednesday. 7 April 2021, 2.00pm – 3.30pm
Meeting Number: 184 140 1806
Meeting password: BDmJkVdQ934
Supporting Your Research Webinar Series: ProQuest Dissertation and Theses.
ProQuest Dissertations and Theses is an online database that indexes, abstracts, and provides full-text access to dissertations and theses. The database includes over 2.4 million records and covers 1637 to the present. It is produced by ProQuest and was formerly known as ProQuest Digital Dissertations.
REGISTER NOW at bit.ly/Proquest032021
An e-certificate will be provided to all participants.
Event: PROQUEST DISSERTATIONS AND THESES GLOBAL
Event address for attendees: 
https://proquestmeetings.webex.com/proqu…/onstage/g.php…
 Date and time: Thursday, 4 March 2021 2:00 pm Malaysia Time (Kuala Lumpur, GMT+08:00)

 Duration: 1 hour 30 minutes

 Event password: Pq2021

 Panelist Info: Ms. Kurinji Malar
See you there!
Scopus Talk On Addressing The Challenges Of Predatory Publishing: Malaysia Chapter

Agenda:
1. Introduction
2. Challenges of Predatory publishing and Scopus vision (Dr. Wim Meester)
3. Panel Discussion with Malaysian Research Leaders
4. Q&A
When:
Thursday, February 25, 2021 at 3.00 PM to 4.15 PM
Where:
Virtual, Zoom Event
Speaker:
Dr. Wim J. N. Meester,
Director of Product Management, Scopus Content
Registration Link:
https://elsevier.zoom.us/…/WN_PB9K8ISpShmnfDz8kR40gA
Identifying Predatory Journal
Do you need advice about where to publish your research? Need further clarification on a status of a journal before sending in your publication? Just fill up this form bit.ly/checkjournal or contact us at lib-enquiryjb@utm.my and we will get back to you.
More tips on how to avoid predatory journals (from UTM Librarian's perspectives) are also available here.
Take a look at the Think.Check.Submit checklists to help you identify trustworthy journals and publishers –> https://thinkchecksubmit.org/journals/
Alternatively, you might want to take a look into the list of potential predatory journals and publishers (known as Beall's List). These lists are by no means comprehensive and authoritative, but may be useful to authors looking for a journal to publish in –> https://beallslist.net/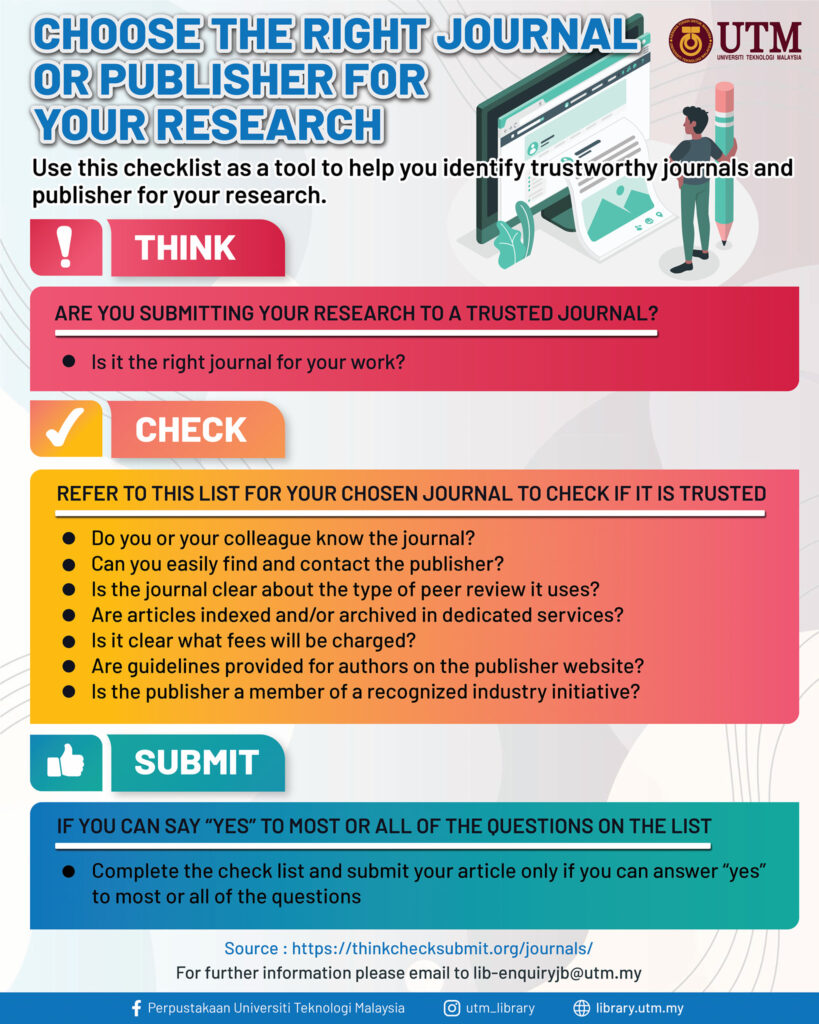 Roadshow @ Faculties
Would you like to have a day where UTM Library comes to your faculty? Among the highlighted activities are:
RADIS
Publication and incentive claims registration 
Research Support Consultation
WOS, Scopus & ERA Indexed publication

Research tools – Turnitin, Endnote & Mendeley
Teaching & Learning Support
Online resources – UTM e-theses and exam papers, subscribed databases, open access resources. 
Borrowing and returning of books.
A Team Who Cares
For further information, please contact norsyuhadashafie@utm.my / ext: 30016.