PUBLICATION WORKSHOP
UTM Library regularly collaborates with academic publishers to organize research writing and academic publication workshop for researchers. Our past collaborators include Clarivate Analytics, Elsevier, IEEE, Springer and SAGE.
If you are interested to join future workshops, send us an email (syahranah@utm.my, ext: 30280) and we will include you in our mailing list.
UTM LIBRARY RESEARCH WEEKS 2021
UTM Library Research Weeks 2021 will be held this year starting 19th September until 30th September 2021. In collaboration with SpringerNature and UTMAlumni, a lot of attractive programmes will be waiting for you LIVE on UTM Library's Facebook and YouTube channel.
> Research Canvas Competition
> Knowledge Sharing
> Publication Talks
> Program Bicara Karya
> RADIS Clinic Webiner
> Information Literacy for Research
All UTM students and staff are invited. See you there!
Stay t
SUPPORTING YOUR RESEARCH WEBINAR SERIES: LEXIS ADVANCE MALAYSIA
Lexis Advance is an innovative online research platform that allows today's legal professionals to access trusted research from LexisNexis quickly and easily.
Refreshingly intuitive and flexible, Lexis Advance is designed with your efficiency in mind. It provides you with access to the bigger picture – your way.
Date and time: 28th July 2021 at 2.00 pm – 3.30 pm
Duration: 1 Hour and 30 Minutes
Trainer: Mr. Marcus Wong (Consultant for the Client Experience and Learning Team Lexis Malaysia)
An e-certificate and student MERIT / staff CPD will be provided
Register now at https://bitly/Dregisterto reserve your place.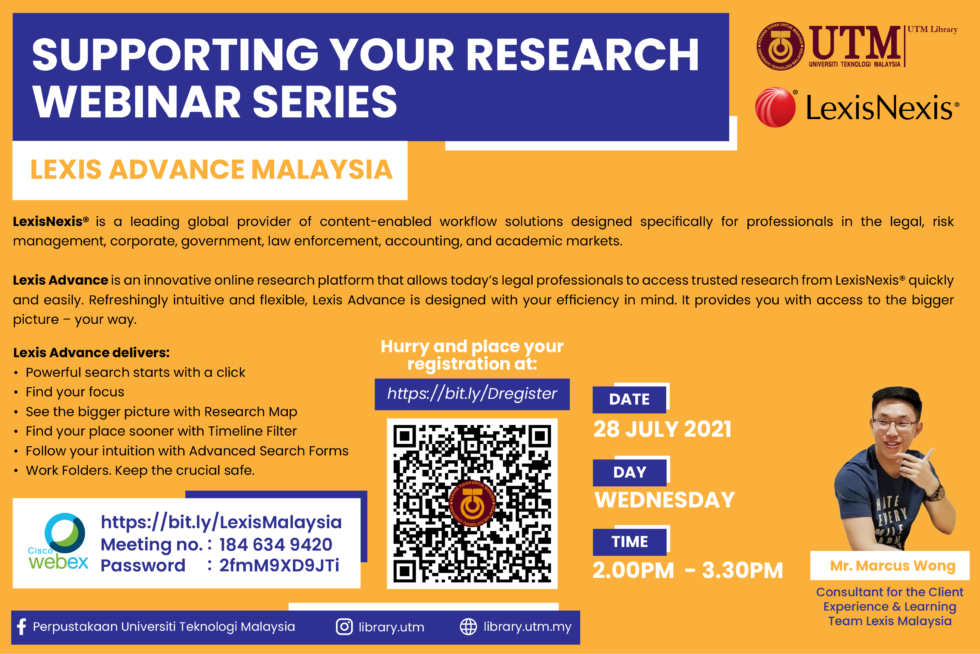 MOHE SCOPUS CONSORTIUM TRAINING
Elsevier will be running a series of 6 workshops from July – November 2021. Please find the topics which we will be covering:
1. Wed, 14 July 2021, 10.00 – 11.30: Scopus 101. Search, Discover and Analyse peer reviewed research
2. Tue, 3 August 2021, 14.00 – 15.30: Which journals, books and conferences, are included in Scopus? Which ones are active VS discontinued?
3. Tue, 23 August 2021, 10.00 – 11.30: The Analytical Features of Scopus explained. How can I use these to my advantage?
4. Tue, 5 October 2021, 10.00 – 11.30: Scopus author profiles. How to refine my profile? How to find peers, competitors, collaborators?
5. Tue, 26 October 2021, 10.00 – 11.30: Journal Metrics. What are the for and how do I use them? CiteScore 2020. Identifying top journals.
6. Tue, 23 November 2021, 10.00 – 11.30: Funding acknowledgements and other Scopus features you may have overlooked
Everyone is invited!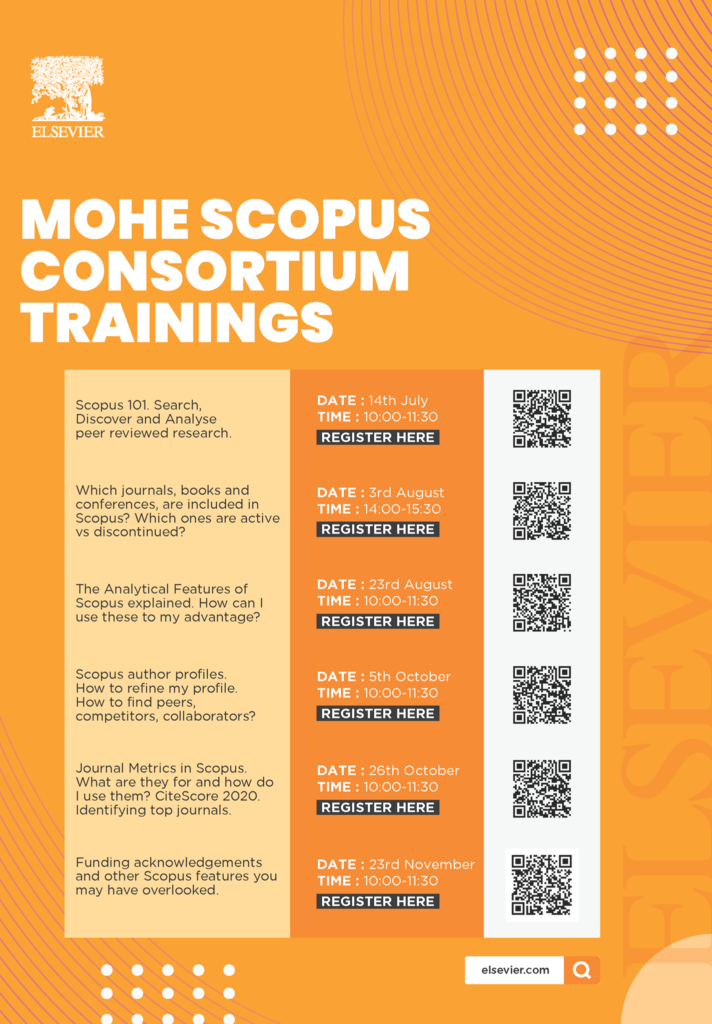 Roadshow @ Faculties
Would you like to have a day where UTM Library comes to your faculty? Among the highlighted activities are:
RADIS
Publication and incentive claims registration 
Research Support Consultation
WOS, Scopus & ERA Indexed publication

Research tools – Turnitin, Endnote & Mendeley
Teaching & Learning Support
Online resources – UTM e-theses and exam papers, subscribed databases, open access resources. 
Borrowing and returning of books.
A Team Who Cares
For further information, please contact norsyuhadashafie@utm.my / ext: 30016.